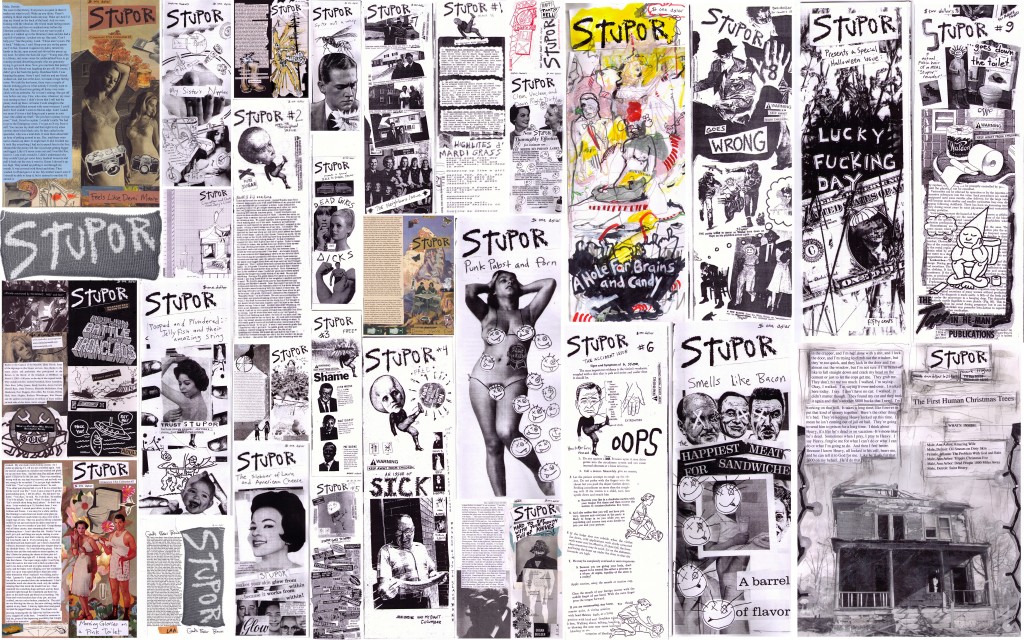 Stupor Catalog: Starting with the most recent issue and going all the way back to 1995's issue #1

Stupor:Turning Blue Art by Graem Whyte, 2016. Contains: Turning Blue — Toasting Her Fabulous Aorta — Prince Buzzard — Peggy's Big Blow Off. More about this issue.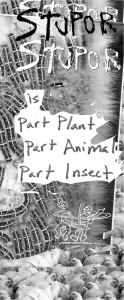 Stupor is Part Plant, Part Animal, Part Insect: Art by Hughes, 2014. This special issue documents the rise and fall of the seminal underground noise band, Stupor, via an interview with Swedish Blogger Robex Lundgren. More about this issue

Stupor: Stupor as Anti-Stupor is Stupor! Art by Hughes, 2014. This special issue deconstructs and reconstructs the book Stupor: A Treasury of True Stories through two William Burrough's style cut-ups. Contains the stories: The Salty Air of Forgiveness – My Huge and Glorious Mistake. More about this issue

Stupor: Office Zombies Art by the Hygienic Dress League, 2014. Contains: James and his Flying Cock – Since When Are Boyfriends Supposed to have Intentions – He Built his Life on Shrugs – Crunching Up Brains. More about this issue

Stupor: Unfixable Art by Jessica Frelinghuysen, 2012. Contains: Nothing I touch turns to shit – Collecting sticks to swing at neighbors. – No one will have sex with you in the emergency room – Pollution Snails. More about this issue

Stupor: Washed in Dirt Art by Matthew Barney, 2012. Contains: Asking for it – The Best Part of Bible Study – Driving as Sober as I Can – Uncle Andy's Head Came off. More about this issue

Stupor: Wants to Be Your Dog. Art by Scott Hocking, 2011. Contains: Dribbly Girl tears – Unfit to be a Parent – Bloody Birds – Easter Lily Cock Helmet – Drop the Bitch, Make the Switch – Chews like a Pit Bull – White Castle Hooker Problem.

Stupor: Fresh and Flowery. Art by Mira Burack, 2011. Contains: Part-time Paraplegic – Itchy Wife – Shit the Bed, Staring Kevin Costner – Down by Limo.

Stupor: Your Human Shield. Art by Elliott Earls, 2011. Contains: The Saddest Dick of All Time – 2 Cigarettes in a Soft Pack – I'm Not a Decripit, Old, Smelly Person, Yet – You're Just Like Your father, Wherever he is. – Bullets From Heaven.

Stupor: Lucky Fucking Day. Art by Hughes, 2010. Special Halloween Issue. Single Story Featuring: Holes For Eyes – 100 Dollar Bills on the Highway – Her Fuck Flag – A Knife in the Head. More about this issue

Stupor: Eat It, You'll Feel Better. Art by Nina Bianchi, 2010. Special Food and Beverage Issue. Single Story Featuring: The truth is First the Most Delicious Food and Then It's Puke. The Truth is Puke.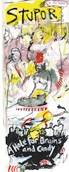 Stupor: A Hole for Brains and Candy Art by Faina Lerman, 2010. Contains: Swallowed a Diamond – Ghosts, Dirt, Nothing – Here to Help the Cats – We Were Going To Live Forever – Drinking From the Blender – Tommy and the Sucking Sound

Stupor: Cigarettes and Crack and Jerry's Liver.Art by Gina Reichert, 2009. Contains: Long Silence – Heavy and the Cops' Wives – What I found in the Basement – Swimming With Gators – Just Here For Beer

Stupor: Pigeon Dreams. Art by Jeff Karoloski, 2009. Contains: Fine Thoughts Toward a Bad Idea – Riding the Beer Wave – My Girlfriend Just Got Married – Friendly Nipples – Al Pacino is Full of Lead – Pigeon Kill

Stupor: The First Human Christmas Trees. Art by Kamil Antos, 2009. Contains: Ex-Husband With Knife Hole – Oil Smears on Dirty Skin – Listen For God – Acid and the Cops and the Search for an Alternative Power Source – Huge Sad House – Teeth on the Carpet

Stupor:The Math of Marriage. Art by Clinton Snider, 2008. Contains: Always Meant to Be – Swift and Punishing Like God – Kim Makes My Lungs Feel Better – John and His Stupid Kerosene Idea – Army of Junkies

Stupor: God's Power Beam. Art by Lisa Anne Auerbach, 2008. Contains: Dead Wife on Christmas – Vagina of Thorns – A Hard Man to Shake – When the Streets Flow with Blood – Benefit of a Good Slap – 1000 Years of Peace – Lisa's Cats

Stupor: Hot! Tasty! Hell! Art by Mich Cope, 2008. Contains: My Truth vs Your Truth – Personal Hygiene Issue – The Problem about Going to Hell and Tracy's Very Nice Bathing Suit – Gotta Get my Shit Together – Pizza Box Pillow.

Stupor: Hard to Eat With Your Mouth Full of Knives. Art by Chris Riddell, 2008. Contains: This Amazing Meal –They Said I'd be Thirsty – 950 pages – Nut Sack Jesus – Secret Truth of the Universe – Wedding Party – Hooker with a Business Plan.

Stupor: Damn! You're Fine. Art by Teresa Peterson, 2007. Contains: Trucker's Wife – Squatters – Monument of Trash – Whitney Houston – Drinking to Endings

Stupor: Feels Like Demi Moore Art by Teresa Peterson, 2007. Contains: Almost Kill the Family – Dirty Stars – Our Stupid Life Together – Number on his Hand – Shoving Pennies in Your Nose

Stupor: Spits Up A Wasp Contains: Art by Hughes, 2007. Contains: Horse Boner – Prepare for the Worst – Veined Blob of Pounded Up Meat – Bricks Do More than Bruise – Pumped with Expensive Precious Poison – What Did I Take That You Thought Was Yours? – Swim Away and Drown

Stupor: Punk, Pabst and Porn. Art by Hughes, 2007. Contains: Jesus Kiss – Might Just Start Killing Them All – Jelly-Eyed Mason – Whack-a, Whack-a, Whack-Away – Afraid of What Makes Her a Woman – Try To Look Like Someone that Needs Help

Stupor: Morning Glories on a Pink Toilet. Art by Teresa Petersen, 2007. Contains: Throwing Ani DiFranco from the Car – Bad, Slippery Bedroom – A Drunk on the Roof – A Stapled Foot – Raining Upward – Bad Teenage Body

Stupor: Return to the Battle of the Ironclads. Art by Tim Hailey, 2007. Contains: Eating Ears – Funeral Buffet and Broken Rubber – Girlfriend with Sitting Problem – Blind Drunk and Driving for More – Very Best Days

Stupor: My Sister's Nipples. Art by Hughes, 2007. Contains: The Nerves are Growing Back – Worried He Might Get Something Right – Rainbows and Road Rash – Bozo Gangsters, Cops, and Molly's Friendly Finger

Stupor: Clean, Unclean, and Down Right Dirty. Art by Hughes, 2007. Contains: It's Not Even My Birthday – Shoplifting Their Asses Off – The Spastic Dance of Nathan's Tongue – The Second One that Killed Him – Pissing on the Bank

Stupor: Smells Like Bacon. Art by Hughes, 2006. Contains: Electric Bra – This One Belongs to the Alley – What Wank-Offs Can Say – Forever a Fuck Up – House Arrest – Stuff is Stuff

Stupor: The Slobber of Lava and American Cheese. Art by Hughes, 2006. Contains: If I Ever Turn into That Kind of Drunk – All the Crap Still Left to be Divided – Trojan Fart – Trying Our Best not to Touch Each Other – Blue Baby – My Mother Doesn't Like Me Either – Some Source of Bliss

Stupor: Pooped and Plundered: Jellyfish and their Amazing Sting. Art by Hughes, 2006. Contains: Stay In Detroit Forever – Firemen and their Screaming Truck – Long Pathetic Joke – Pontiac for Dialysis – He Knows He's a Loser – But You Don't Use Cherry Chapstick? – The Problem with You
Stupor #9: Stupor Goes Down The Toilet. Art by Hughes and Tim Hailey, 2000. Contains: How Can I Marry a Guy That Shits His Pants? – Steaming Hood – Vitamin P – Greasing up for the Next Scene – Not Gay but Unwanted – Blue Pooh – Her Unavoidable Street – Puke on Lance LaLong's Halloween Costume – They Get That Way When it's Cold – One of the Last Times I Decided We'd Better Break Up –Transcendental Poop Problem – Can't Seem to Stop – What Francis Pooped – My Confusion – Hey Rocky, Watch me Pull a Rabbit Out of my Ass – Arrested for No Reason – Bruised Inside and Pissing Myself – Winter Nipples – Pubic Gum – The Beginning and the End – Incredible Sphincter Control – One Sick Out-of-Bounds Bitch – The Deep Relief of Monogamy – Don't Touch my Scooter – One Pound of Ice Cream – Torn Open – Flung from the Bell Tower – All the Knives are Outside – Some Naked Girl Wandering Around – Immobile Father – The Name She Earned – Good to Go – Unexplainable Pee Smell – Not the Same Person I Married – Bobbling the Baby – Raw and Sucked with Fever

Stupor #8: Stupor Goes Wrong. Art by Hughes and Tim Hailey, 1999. Contains: Build a Better Future for Canada – Becoming the Virgin Mary – Aqua Velva Man – The Kung Fu Stance – Dine and Ditch at the Donut Shop – In Prison There is Honor– I Rape Frat Boys – My Name is Judy Garland – Smelly Eggshells – Stuck by Steak Knife – Sugar Baby – Family Issue – Sour Milk Girlfriend – Georgia Hot Peanuts – 4 Reasons – Trouble with Yours Truly – How Black was He? – Eight Ball on my Belly – The Great Bike Heist – Acing the Breathalyzer Test – Michael was Mulched – Burning Girl – 32 Things I Stole – Tyler in his Orange Jump Suit – Throwing Apples at Cars – Aunt Marge was Driving and Bombed out of her Mind – Very Unhappy Civilian Prick – Eat at the Y – Some Idiot Might Drive Over Your Head – A Dancer's Bones – His Ear Fell Off – He Talks to His Gun – Weird Moment in Junior High – Sober Enough – Everything I was Saving – Police Dogs and Ground Chuck – Wet Drywall, Blood, and Crossword Puzzles – Other Peoples Things – Dead John with Nice Jacket – Michigan Has Gone Down – Shoplifter Dressed as Super Hero – My Parents Hated Me

Stupor #7: Neighbors. Art by Hughes and Hailey, 1998. Contains: An Etymology – Angel Had the Smelliest Apartment –Turned Black – Bullet Hole in Her Leg – Lost Bike, Dead Mother – He Put Rocks in his Dishwasher – Good Scent from a Strange Finger – At the Bottom of the Sewer Looking up at His Face – Mickey and His Whores – A Deep Jiggling Hole – Underwear Thief – Jacked on Michigan Ave – Borrowed Porn – Handy Tool for Stirring Drinks – Sleep it Off – Going Gay in Goose Shit – Grandma Climbs Out the Window – A Hole, A Spanking, The Green Sky Storm – Clever Dying Plan – Alternative Use for Honey Bear Bottle – What He'd Do for Darla – Bad Haircut, Good Beer – Strange Sex Game for Campers – People I Found Passed Out in my Neighborhood – Coke Head from the Reagan Years – Welts a Horsefly Could Make – Crazy Jerry Shot Them – This Dog's Dead – Strange Impossible Love – Could Have Won in Vietnam – Smoke and Kiss – How Balls Blue – Not the Only One Who Wanted Him Dead – Keep the Dog Quiet – Socks and Flesh-Colored Bras – Hairy, Smelly, Thing of a Person – Threatened With Mayonnaise – Sort of A Drug Dealer – Bad Wishes for Marshall – Somehow He Managed not to Kill Himself – Loose Sack of Skin – Held by Rusted Nails – Shannon's New Tits – The Disciples and Their Stolen Tools – House of Stink – Everyone in the Neighborhood was Hitting Each Other – Burning Houses by Candle Light – New Holes for Roaches – Sad Thing About Mom – Tires Gouged the Lawn

Stupor: Dead Girls and Dicks. Art by Hughes, 1998. Single Story, Featuring: Neil Diamond – Donkey Kong – Braces and Sore Teeth and Dribbling Dicks – A Ton and a Half of Steel – Pizza – Popular Girls – Hope for Future.

Stupor #6: Oops: The Accident Issue. Art by Hughes and Hailey, 1997. Contains: Don't Squeeze the Stupor – Wild Red – The Fumes – Mudstuck – The Dead Have it Easy – Busted – Notes Toward an Essay on Why Shit Happens – Tattooed, Pierced, Electrocuted – Head in the Door – Bleeding at the 76 Gas Station – Pasta Machine Hand Crusher – Bone Snapper – Mistaken Identity of my Tits – Big Wedding Oops – Glass Crusher – Salad Shooter – Neck Snapper – Gasman – Large Marge and the Staple Machine – Tricked the Tooth Fairy – Beautiful Music of a Burning Apartment – Bad Idea about a Rubber – Gag Reflex – Not So Perfect Record – Spaghetti Palace Incident – He Killed 27 – The First, Second, and Third Car that Hit Me – Girl Friend with Bad Trigger Finger – Crack and the Burning Comet – Half-way to Woman – Bashed by Blow Dryer – Confusing Dick Problem – Hot, Hot Russian Band – Dick Zipper – Sore Mouth – Chester's Broken Face – Strawberries and Blood – Go Cross-eyed – Franken-Face – Tampon Problem – Quiet Mystery of the Sesame Seed – Dumbo Ears – Accident Fantasies – 1973 Indy 500 – Weird Police Apology

Stupor #5: Work. Art by Hughes and Hailey, 1996. Contains: A Bad Move on My Part – We're All Just a Bunch of Niggers – Damn Proud of What I'd Done – Pig Factory – Small Talk and Search for Meaning – The Preacher and His Hot Wife – Office Chocolate – Notes Toward an Essay on Truck Driving – On My Way to Some Kind of Success – The Future will Repeat Itself – Bright and Clean – Dangerous Mall Job – Points for the Team

Stupor #4: Sick. Art by Hughes and Bill Rohde, 1995. Contains: Nothing More Exquisite than the Smell of an Absent Woman – Don't Talk to Me about Sick, You Pussy – Short Sick Story – In and Out List – Sick Ideas Whose Time Has Come – Summer Luvin' – Something To Talk About – D.I.Y. Surgery – Anatomy of Five Ills – Sick List – My Glossy-Faced Friend – Ladies Love Latex

Stupor #3: Shame. Art by Hughes and Rohde, 1995. Contains: Billy's House of Shame – Bumper Sticker Fix – I Hated Kids – A Future of Amateur Porn – Forgotten the Math – Rape and Rescue – Sometimes I Do Stuff that Makes People Hate Me – Queerballs – Underpants Galore

Stupor #2: Childhood. Art by Hughes and Rohde, 1995. Contains: Stuff I Did One Time – Chad's Top Ten – Big Brother – Dumbass With Gloves – 4 Stories and 1 About a Turd – Advice for Your Jazz Festering Guests – Letters to Stupor – Bottom of the Lake – Disney Trouble – Naughty Talk – Brains Came Down

Stupor #1 Art by Hughes and Rohde, 1995. Contains: My Contract With America – High Lites d' Mardi Grass – Gone Stinking Drunk – In and Out – Words of Encouragement from the Holy Scriptures – Oscars Schamskers – A Paean to Onanism.